Developing Young Athletes in Somerset & helping them to be the best they can be…


Athletics - Peter's coaching philosophy.
Peter's coaching philosophy is based on considerable experience of coaching athletes – 14 years intensive coaching – a commitment to learning how to improve his coaching and delivery rather than just stay in his comfort zone and repeat the same things time and time again. Peter tries very hard to keep abreast of developments in the world of athletics and attends numerous coaching workshops and conferences. He was also part of the England Athletics National Coach Development Programme, which provided access to some of our top athletics coaches. Peter is privileged to have been mentored by former GB International athlete and coach Dan Cossins, who was based in Bath and coached Olympic athletes Danny Talbot and Emily Diamond.
Peter's approach to coaching takes into account current "best practice" so that the delivery, although physically and mentally challenging, is set at a level appropriate to the long term needs of the athletes with whom he works.

Sprints and hurdles coaching.
Peter has always been a sprints coach and coached the sprints group at Mendip AC. He is confident coaching all sprints events along with the 4 x 100m relay.
Sprints coaching eventually led into sprint and long hurdles coaching of which he is most confident coaching the former. This has involved coaching specialist hurdlers and also combined events athletes, both at Mendip AC and elsewhere.
Peter is a member of the coaching team at North Somerset Athletics Academy (click here) where he coaches mainly sprints, hurdles and long jump to athletes in school years 5 and above.
Peter was a visiting coach at King's Bruton from 2009 - 2018 where he coached all sprints and relay events, together with sprint hurdles and long hurdles, sometimes long jump and high jump.
Peter was a member of the coaching team for the Somerset Disability Squad, which trained at Yeovil, and has coached all sprints together with shot and discus (coaching ended in August 2013 due to lack of funding).
Peter is a coach for the Somerset Schools Elite Squad and coaches all sprint events and relays. 2018 Coaching Days>>



Peter leads an after school athletics club at Horrington Primary School, now in its ninth year. The focus for this has always been multi events, ie run, jump and throw activities, and the development of athleticism. In the Winter term the focus tends to be cross country and sportshall athletics, and in the late Spring and Summer terms this changes to outdoor athletics, covering all events.
Peter was a visting coach at King's Bruton from 2009 - 2018 and coached sprints, hurdles and relays. Sometimes long jump, high jump and throws. He also delivered fitness and conditioning sessions.
2016 and 2017 saw Peter proving sprints, hurdles and relay coaching to athletes at All Hallows Preparatory School. This continued in 2018 to include long jump and high jump.
Peter is the Lead Coach for South Somerset's Junior Athletics Programme, having been involved with this since 2013. More>>
Peter is also helps to run a Combined Events Academy. For more information go to the ACE website>> or click here>>

Athletics coaching is about helping the athletes to be the best they can be, and not about coach gratification. However, as coaches we are judged on performance and in any case it's satisfying for coaches to be associated with an athlete's success! Peter is pleased to have been part of the "team" who have coached many athletes and helped them to win medals at County Regional, National and International level.
Peter has particular expertise in heptathlon having managed and coached an athlete to win the ESAA Combined Events National Championships in 2016 with the assistance of a group of specialist coaches all working as a team.

Peter had the opportunity to coach disabled athletes for 3 years. This all started when a group of disabled athletes appeared without warning at a Somerset Schools Elite Squad training day. Fortunately they were accompanied by Jen Slade (then the Somerset Disability Sport Officer). Peter asked "How should I coach them?", Jen replied "Just treat them like any other athlete!". So he did and was "hooked"!! This was the start of some of the most inspirational coaching Peter has ever experienced and he loved every minute of the time spent with these athletes, both at Yeovil and on the Disability Talent ID days at which he has coached for England Athletics.
Athletes coached have included those with CP, dwarfism, hearing impairments, sight impairments and those with learning disabilities. Coaching has mainly involved sprints, shot and discus, but also included some long jump and high jump.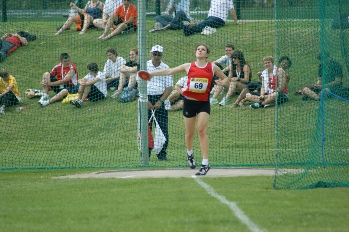 Primary & Secondary School Athletics.